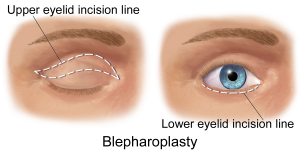 Blepharoplasty is the cosmetic surgical procedure that removes excess skin and fat from around the eyelids. This practice is typically used to improve someone's vision or help give them a younger, more alert appearance. It has become one of the most popular procedures, mostly within the older adult age group. If you're thinking about going under the knife, there is a laundry list of things you should research and consider prior to making the commitment.
What are the potential cosmetic benefits?
Blepharoplasty, or eyelid surgery, greatly reduces signs of aging around the eyes. By removing the excess fat and skin, sagging eyelids and puffy bags can be removed and fine lines around the eyes become less visible.
What are the potential health benefits?
Some people choose to undergo a blepharoplasty procedure in order to attain a younger looking appearance, but some need it to solve a medical problem they might be having. Over time, as gravity does its work, eyelids tend to sag and obscure vision. In order to reverse this trend, excess eyelid is removed and vision is restored.
How should I determine my surgeon?
This may be the most important thing to consider when thinking about blepharoplasty. Make sure and do your research to find out the history of your potential surgeon. Look at their surgical history, make sure it's one of success, consult with several different ones to get all the angles and make sure you're comfortable with whomever you decide to be your physician.
What are some potential risks?
Any type of surgery, even a low-risk one like blepharoplasty, come with certain risks. Again, these should be discussed at length with your surgeon before undergoing any procedure. Some common risks include dry, irritated eyes, injury to eye muscles, temporarily blurred vision, or in some rare cases blindness. In addition to those risks specific to blepharoplasty, risks associated with surgery in general, such as a reaction to anesthesia, blood clots and infection are also possible. Again, make sure to discuss with your doctor how these potential risks might affect you. You should also weigh these risks with benefits to determine if this procedure is right for you.
What's the recovery process?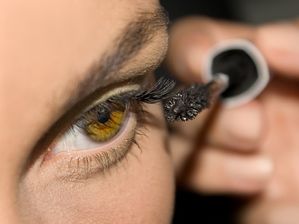 Due to the nature of the procedure, there can be mild discomfort and bruising after undergoing blepharoplasty. Usually it takes roughly two weeks to recover from the surgery, but it is dependent on the individual. Keeping the head elevated, icing as often as possible and making sure to avoid strenuous activities are the main recovery activities. Again, be sure to discuss the recovery process with your doctor and be sure not to try and rush the process.
Five Things to Know if You're Considering Blepharoplasty